Do you want to rent a canoe or raft, but you don't know where from, where to, how and why? Rent a boat in Žlutá Plovárna in Malá Skála and you will be soon boating on Jizera with all the information needed, such as where to get off or have a good meal.
One day on Jizera – from Spálov to Dolánky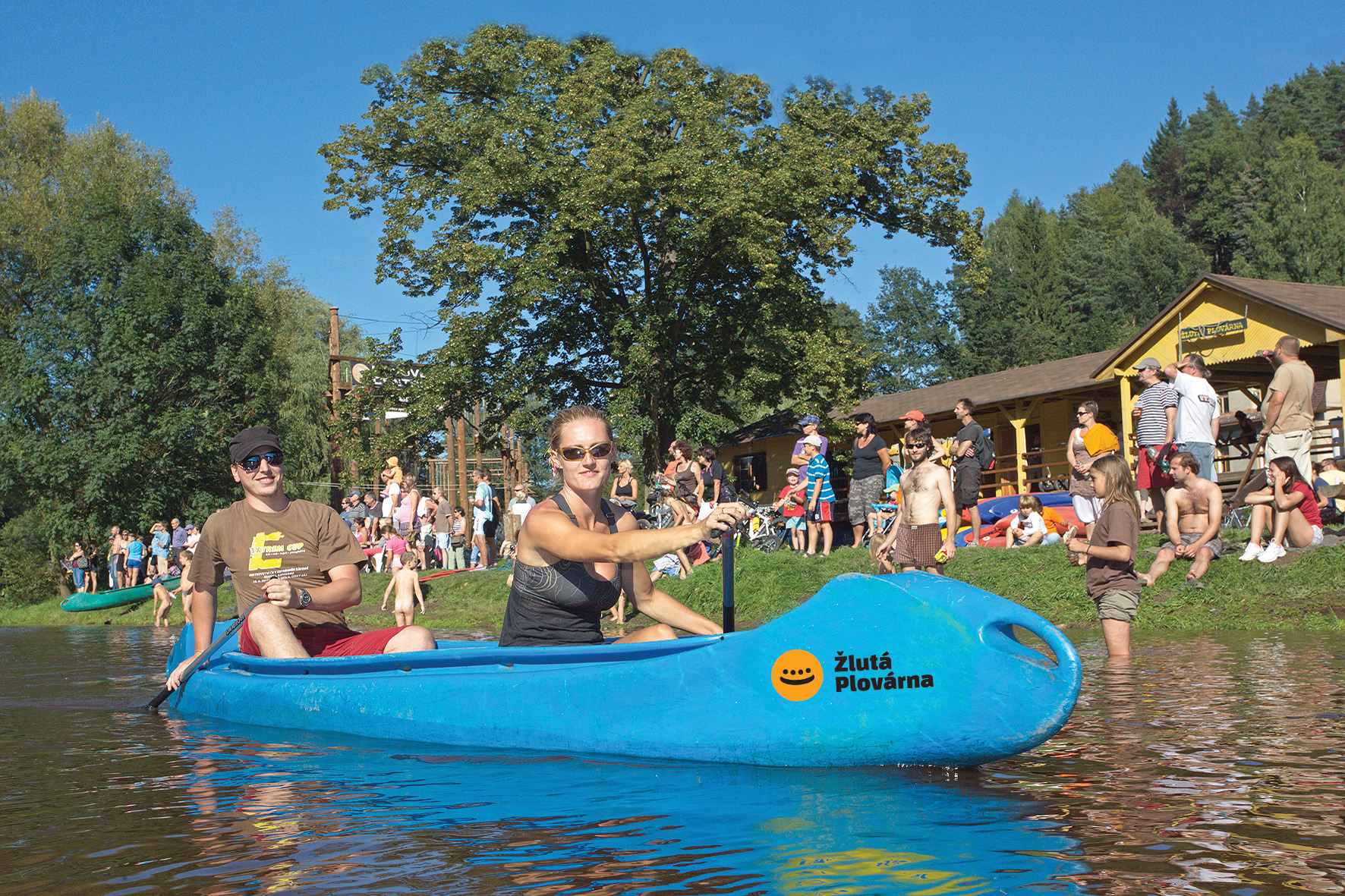 You will be delivered the pre-ordered boats to Spálov, which is close to Železný Brod, at 9 a.m. The village lies at the confluence of Jizera and Kamenice. You can refresh yourself at the beginning of journey in a local restaurant and then set out. After one kilometre there is a part of the river for kayak-paddler's, called Paraplíčko, where the river flows a little bit quicker. After passing it and going further you will reach Železný Brod, where you will have to take the boats on the left side past the weir and then continue onward. In Splzov, there is another obstacle and two possibilities how to deal with it. You can either go though the raceway, where you will have no problem with lack of water but will have to pull the boat over for quite a long distance. Or, you will go through the riverbed, where is less water, but pulling the boats, which are rather heavy, is not so long. When you reach Malá Skála, you will stop at the information centre and pay for the boats. While being there, you can also refresh yourself in the local restaurant and then continue. After going through the only passable weir on your journey and 2 km long way, there is an anchorage of the pub Křížky on the right bank. There is a choice of meals waiting for you, which you can wash down by various beverages. After reaching Dolánky you will stop before the rubber weir, go up the stone stairs on the right, and pull the boats on the bank. The additional equipment (paddles, lifejackets, barrels) please take to the information centre, which is located on a car park 200 metres far from the bank. If you still don't have enough, you can go back to Malá Skála on scooters or Go KARTS pedal cars. You can also refresh yourself in a local buffet.
One day on Jizera – from Malá Skála to Příšovice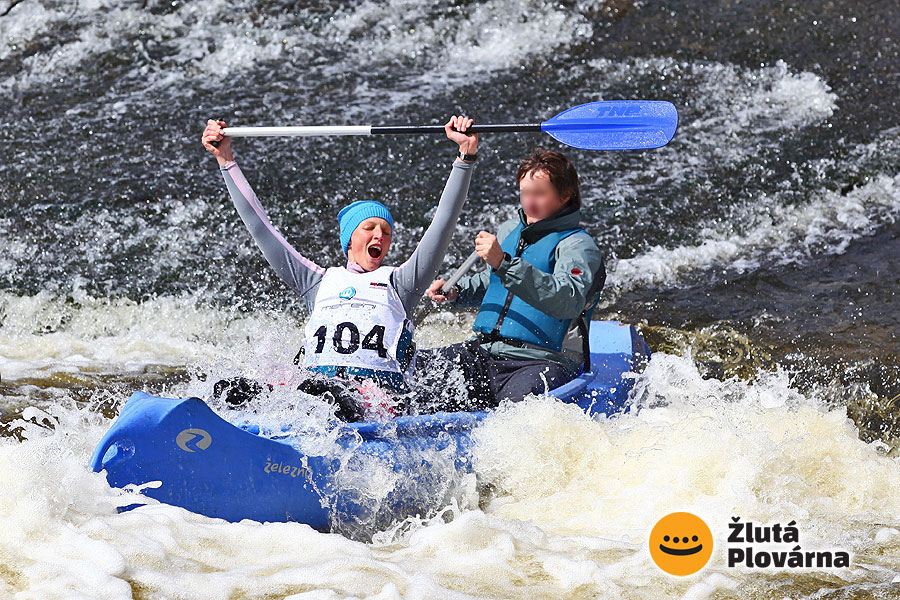 You will set out from Žlutá Plovárna in Malá Skála between 9 and 10 a.m, equipped with paddles, lifejackets and barrels for your things. Right at the beginning there is the only passable weir far and wide, but we recommend to practice a bit on placid water up the weir before you try to descend it. But of course, there is always the possibility to pull the boats over on the left side of the bank if you don't want to go through the weir. 2 or 3 km further, you will reach the anchorage of Pub Křížky, where you can have a lunch, something to drink or soft serve ice cream. Then you will continue to Dolánky, where is another possibility to refresh yourself. You will have to turn to the left arm of the river, pull the boats on the right bank a take them past the weir. Another weir is a few kilometres further in Turnov, also not passable ,and then you will reach Přepeře, where is buffet "Autobus", located up the weir. The destination of your journey is just 2 km far, so it's suitable to call Žlutá Plovárna at this point, so we can send a car for you. The destination is under a small road bridge, behind which you will get off the boat and wait for transport.
Two and more days on Jizera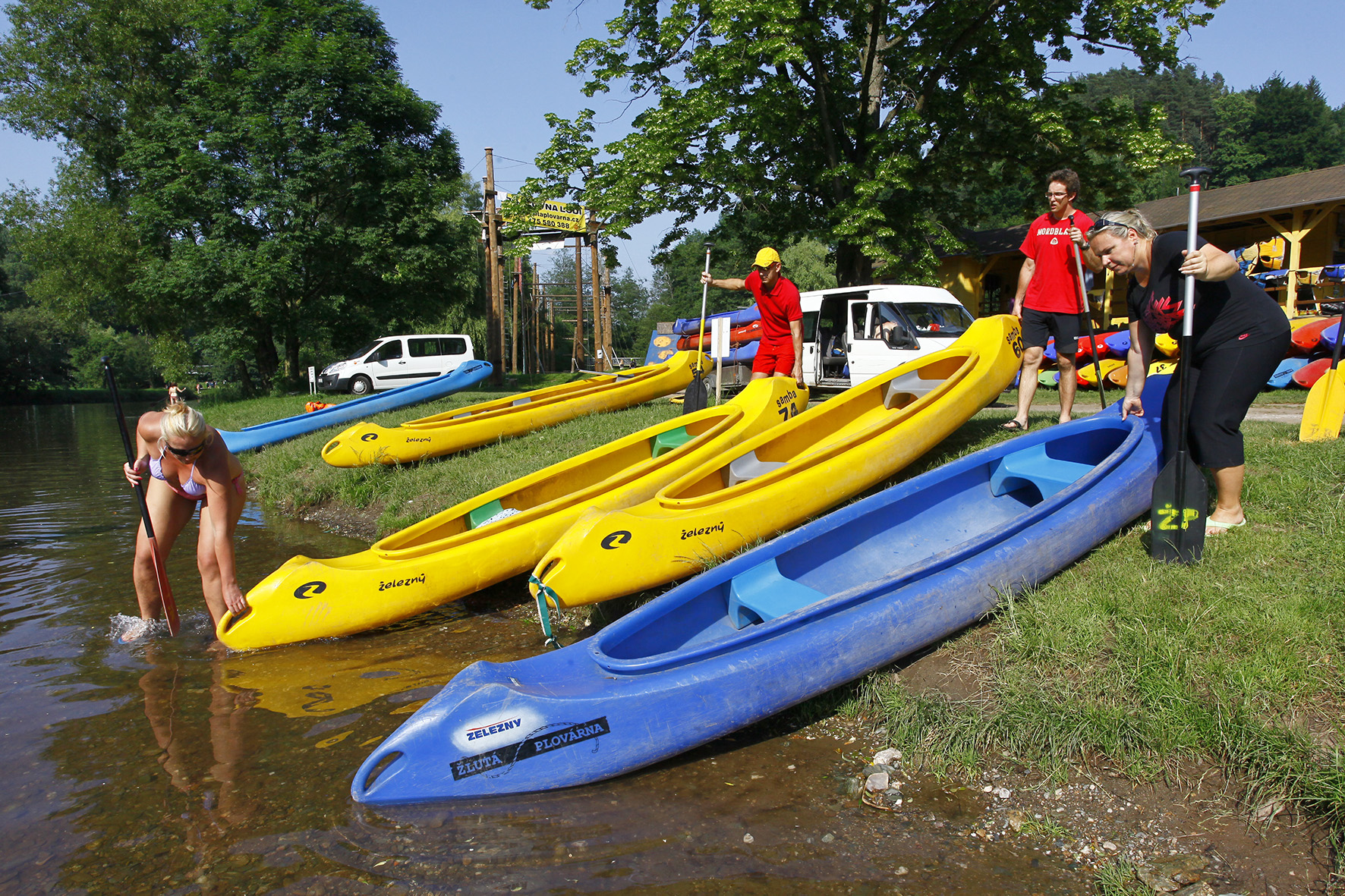 There is a possibility to spend more days on the river. You can set out for example from Spálov, which is up Malá Skála or from Žlutá Plovárna in Malá Skála. There is a number of possibilities of where to stay during your journey. Accommodation on your way from Spálov can be the lodging house "U Tlusťocha", or guest house Křížky (a few kilometres downstream from Malá Skála) or you can also stay in Camp Dolánky. Where do you travel? There are more possibilities, for two and more days is the destination usually Příšovice or some further places such as Březina, Mnichovo Hradiště, Bakov nad Jizerou or Mladá Boleslav (which is rather a three-day trip). If you like doing something extreme, there is also a possibility to pick you up further on the reaches of Jizera (it is not common to go further than to Mladá Boleslav, but it's not a problem by prior arrangement). You will be always provided by all the equipment needed for you journey (paddles, lifejackets, and plastic barrels for your things) and when you take over the boats you will be fully explained the route with pointing out all the tricky parts or the parts that you should be careful at.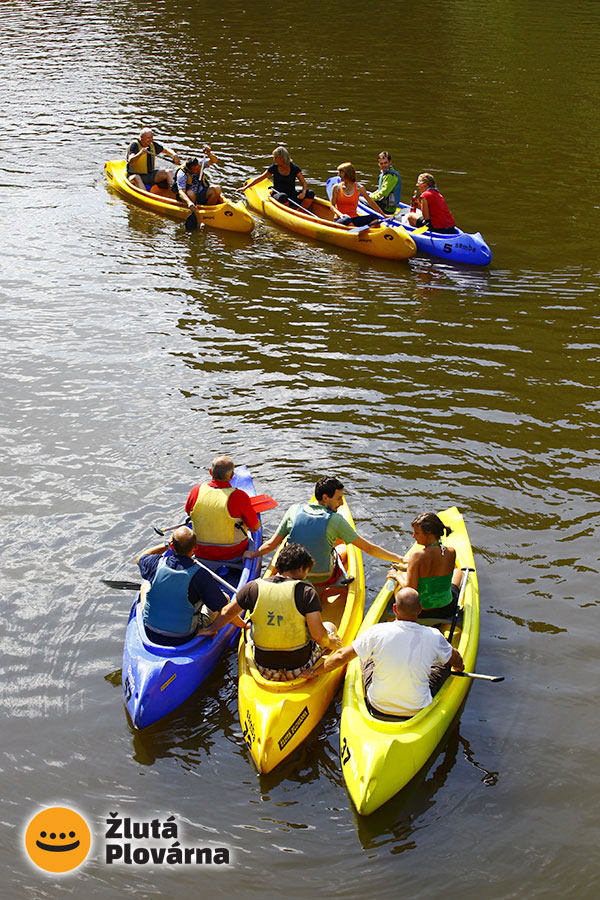 Longer trips are even better if you travel in groups.